February 14 here in Mexico is known as "Dia de Amor y Amistadt"–a special day for loved ones, lovers, and friends.  Although expressing our love and appreciation should happen often, this is the day to really focus on giving back to those who have given us so much!  Here are some gift ideas from the local artisans of Vallarta that I have found while giving my walking tours.
Hammered tin hearts are typically from San Miguel de Allende where this art form continues to thrive based on hundred year old techniques. You can find them in several of the shops in El Centro. These are from Payote People on Juarez.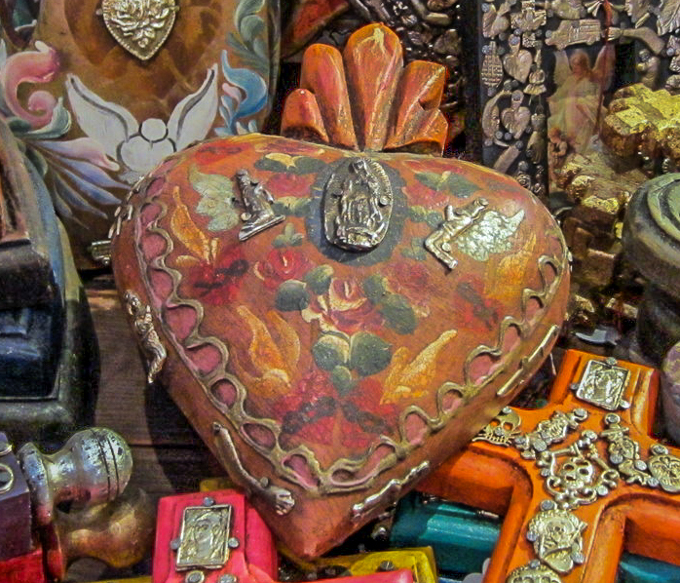 Milagros (Spanish for miracles) affixed to wooden hearts have a long history as these metal icons were originally purchased in front of churches. One would then pin them to the gown of Our Lady of Guadalupe to symbolize the "miracle" or prayer needed. Now you can find these to hang in your home as blessings. This one is from Faith Collectiva on Basilio Badillo.
Glass hearts have become very popular to hang in windows or where ever they can catch the light. Hand-blown of different colors, these and the little ceramic hearts are from Senior Talavera on Calle Encino. There are also a variety of glass hearts available at the Botanical Garden.
Little wooden trinket boxes with glass hearts inside and wooden pictures of hearts can be found at Corozon Vallarta on Augustine Rodriguez one block west of the Municipal Market or in the evenings at the north end of the Malecon across from the Cuban restaurant.
Last but by no means least are chocolate hearts, long the favorite of young and old alike.  These and other Valentine candy can be found at the small candy store on Hidalgo just before Libertad.
Whatever you are giving on Valentines, I hope you have a LOVEly day!
Please follow and like us: