December is a big month here for religious and spiritual celebrations deeply ingrained in the Mexican culture. A mixture of Old World Mexico and New World Catholicism contributes to a festive and meaningful coming together of all peoples, Mexicanos and expats alike. The first 12 days are dedicated to Our Lady of Guadalupe, symbol of love and devotion as the Mother of Mexico. Before the Conquistadors and the advent of Catholicism, she appeared as an apparition to shepherd Juan Diego in the early 16th Century in the hills of central Mexico. Following her message to Juan, a church was built on the spot where she appeared. As Spanish missionaries arrived and Catholicism descended on the country, the Virgin Mary and Our Lady Guadalupe became joined as the Mother of all Catholics. Even so, Guadalupe is continually honored throughout Mexico during these 12 days in keeping with the original beliefs of the indigenous people.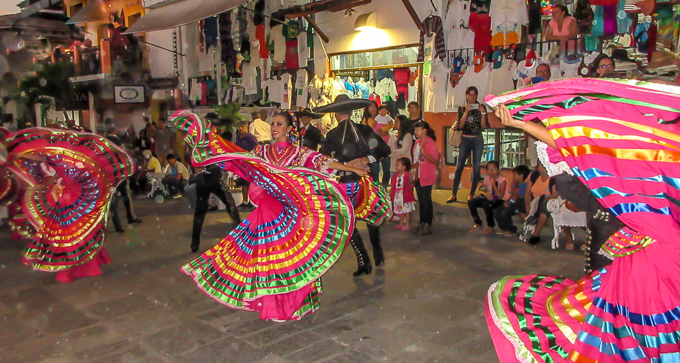 In Vallarta, there are processions, called peregrinaciones, daily from December 1-12. Thousands of people representing local neighborhoods, businesses, organizations, and groups walk several miles to finally reach Our Lady of Guadalupe Church in the city center. Joined by multiple groups of Aztec dancers dressed in their feathered finery, drum and bugle corps walking in precise formation, Mariachi bands with their colorful costumes and familiar music, and floats carrying children dressed as Juan Diego and Guadalupe, the processions slowly make their way down the main street which is crowded with people on both sides waiting and watching the amazing spectacle before them. Upon reaching the church, each group, baskets of food and flowers in hand as gifts for Our Lady, ascends into the beautifully decorated interior to be blessed by the priest. Bells and fireworks from the bell tower can be heard throughout the town after each blessing.
In between groups, there is usually a time lapse during which one can wander the plaza and surrounding side streets to partake of the many food vendors offerings of typical fare found during this time of year. Atole, a hot cornmeal drink made with sugar, vanilla and sometimes coconut or chocolate is sold everywhere. Sometimes, Christmas punch is available–a hot drink of stewed fruits, sugar, water and maybe red wine. Then there are tacos, pozole, tamales, roasted corn served with mayonnaise, grated cheese, picante and lime, dozens of desserts with enough frosting and cream to push you towards a heart attack, and huge spits of roasting pork with a pineapple dripping down its surface.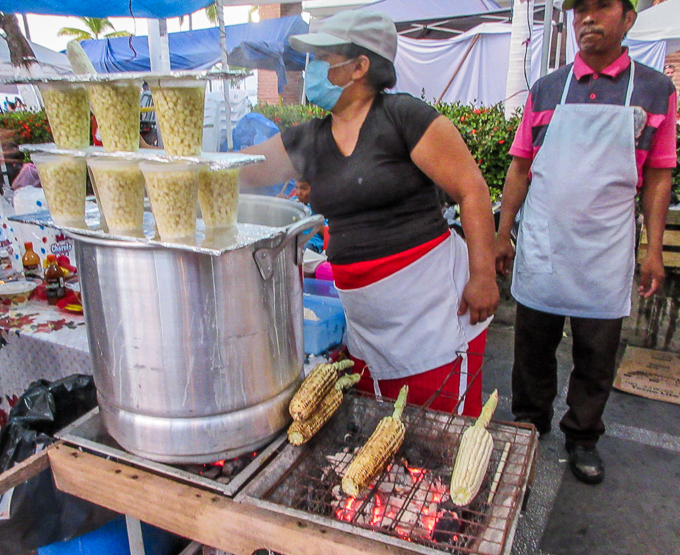 After all of this is over, the posadas begin. These are neighborhood wanderings representing the journey Mary and Joseph took on their way to Bethlehem when they could not find an inn to spend the night. As neighbors continue along the street, visiting other neighbors, they will finally come to the house designated as "the inn" where food and festivities will begin lasting into the wee hours. Businesses also offer posadas to their employees as a way to thank them for a year of service.
Christmas Eve is usually spent going to mass in the evening after which families gather for a big late night dinner in preparation for a solemn Christmas Day of rest and relaxation. In the past, gifts were only exchanged on Three Kings Day (January 6) duplicating the Three Wise Men's bringing of gifts to the Christ child. Today, lucky Mexican kids get presents twice…once on Christmas day and again on January 6. This is also when a special orange-flavored sweet bread, called Rosca de Reyes, is shared with family and friends. A little plastic baby Jesus is baked inside so that whoever gets the piece with the baby must then host a tamale feast on Candlemas, February 2.
Please follow and like us: